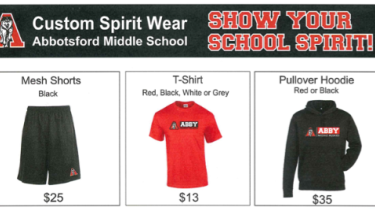 Husky Wear is now available!
Husky Clothing is Available
Husky t-shirts, shorts, sweatpants, and sweatshirts will be available to order until September 28, 2021. Students can oder through SchoolCashOnLine after September 1st. Please contact Mr. Mani  email:  shawn.mani@abbyschools.ca for any details. Samples are available to VIEW ONLY from the office. Please note......due to Covid 19 - you are UNABLE to try items on.