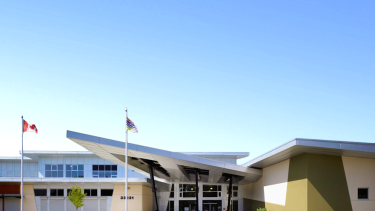 About Us
Home of the Huskies
Message from the Administrative Team
Welcome to the Abbotsford Middle School website.  Welcome back to our returning grade 7 and grade 8 students and a special welcome to each of our new grade 6 students.
Abby Middle is a vibrant learning community that nurtures self-esteem through support and encouragement. As an International Baccalaureate Middle Years Programme school our students are achieving success in all sorts of areas.
At Abby Middle we are passionate about the MYP program. It allows our teachers to use best practices in their classrooms, staying current with cutting edge educational research and using the best teaching ideas to keep students engaged and learning.
It has an interdisciplinary approach, with its emphasis on seeing the interrelated aspects and interconnectedness of our world. There is a heavy emphasis on global awareness and being internationally-minded, and in our vast world made tiny by technology, these are important qualities and concepts for 21st Century education.
The program structures units around a guiding question, allowing students to look at big ideas and concepts, instead of focussing on the rote memorization of seemingly endless facts.For example our Grade 7's answer the question,"how do humans and salmon affect each other"?
Our goal is to put the mission statement in action, 
At Abbotsford Middle School we challenge ourselves through inquiry-based learning which is reinforced by a highly supportive school community. We respect, celebrate, and understand the differences in our school as we truly represent the cultural mosaic of our international society. Our aim is to develop balanced students who excel to the best of their ability by offering diverse programs to inspire our students' interest and love for learning. At the core of our school is service where we encourage students to become active in the world one positive action at a time.
We challenge you to work hard this school year.I hope you take the lessons that you have learned in the classroom, on the field and on the court and apply them to your future.The Husky P.R.I.D.E. acronym (Perseverance, Respect and Responsibility, Integrity and Excellence) are characteristics that will take you far in life.
We are using this website as the main way to communicate with the families of Abby Middle. If you have any ideas on how to make our website better please let me know.
Sincerely,
Mr. J. Singh & Mr. G. Kemp