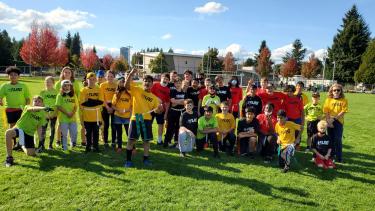 Flag Football at Abby Middle a Rousing Success!
October 30, 2021
This was the inagural year for our Flag Football team and it has been a resounding success! 40+ kids participated across all three grades. Students were divided into 4 different colours/teams and with practices on Monday & Tuesday and games on Thursdays.  Thanks to Mr. Townrow who is the architect of this, Mr. Mummery for stepping in as soon as he arrived at Abby Middle, as well as the illustrious Mr. Mani!  These three are in the trenches (and the rain!) three days a week teaching and cheering on these kids.  A big thank you to Mr. Dool who also stepped up coaching on Thursdays and Mr. Heppner who helped print the uniforms for the participants. 
Football finishes up next Thursday.